Italian Handmade Tailored Shirts
A made-to-your-measure shirt.
Discover our latest fabrics and yarn fineness
COTTON IS THE OLDEST TEXTILE FIBER, AFTER LINEN AND WOOL
he fineness of the yarn making up a fabric is defined by its count.
ITALIAN TAILORS SINCE 1958
The Company founded in Bergamo in 1958 by Emanuele Maffeis, who enjoyed the legacy of generations of knowledge, and resulted in the creation of a shirt of the highest quality within the tradition of the Italian textile industry. The success in responding to the market's ever increasing awareness and quality demands is based on a series of elements and experience gained which has always allowed the Company to create unique garments. The continuous research both at home and overseas for special fabrics, the development of perfectly fitting patterns, the near obsessive attention to detail together with the ever present hand-finishing are the hallmarks of an Emanuele Maffeis shirt. The combination of handcrafted detail with the search for innovation, have resulted in unparalleled comfort and perfect fit.
Strict quality control at all stages of the manufacturing process together with the final check where every shirt is examined individually and commitment to provide unrivalled customer service distinguish Emanuele Maffeis from all other companies.
Be the first to discover
our 3d virtual configurator
All these details are at the customer's choice, to give the image-conscious man the opportunity to choose, from the available details, the best way to create his own tailored shirt and feel free to express his personality and achieve maximum comfort.
The SARTORIAL COLLAR is constructed in the sartorial tradition, with exposed inner cloth to fit better with the tie. An important detail that characterizes the tailored shirt.
The collar is sewn to the shirt by hand.
The SHOULDER TRACT is hand-stitched.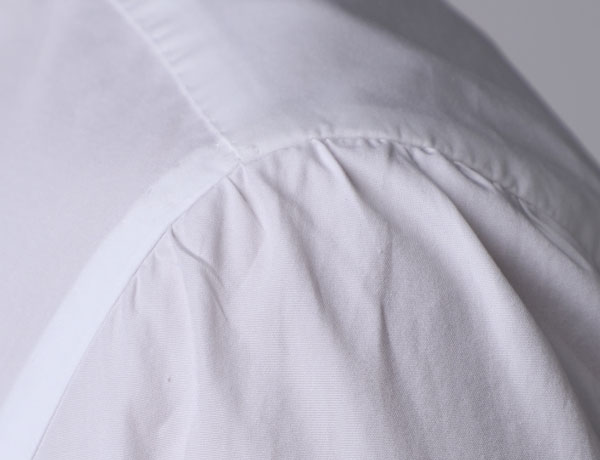 SHOULDER PLEATS are a sartorial tradition to achieve an optimal fit.
The ARMHOLE is sewn entirely by hand using "understitching."
The buttonholes are carefully handmade in the old tradition and make the tailored shirt special.
The BAR TACK, used to fasten the slit to the sleeve and give a touch of refinement to the garment, is strictly handmade.
The machine-sewn taffeta MOSCA in the more traditional "pentagonal" shape.
The BUTTONS used for Emanuele Maffeis creations are made of genuine mother-of-pearl in the most diverse shapes, and hand-sewn with lily stitch.
Strictly hand stitched with classic, Roman or shadow stitch.
Details of the machine-sewn shirt
Each shirt is machine sewn with 10 stitches per cm.
The RIGS or SQUARES of the shirt are aligned perfectly.
THE SHOULDER, each sleeve is cut by hand so that the lines of the sleeve align perfectly with the lines of the shoulder.
The FESSINO, the stripes and checks are cut in such a way as to achieve continuity of design with the sleeve, thanks to an accurate handmade cut.
The machine-sewn taffeta MOSCA in the more traditional "pentagonal" shape